Products - Air Wipers
Drying wire and cable can be a tricky, expensive business. Huestis Industrial Air Wipes use precision controlled air flow to save air, reduce noise and dramatically cut energy consumption.
Here are the basics of how an Air Wipe works:
Air is channeled through a manifold in the body and distributed to a ring of jets.
Jet orifices restrict air flow to provide efficient drying at the lowest possible air consumption.
Turbulence created by controlling air flow and direction removes water from the material surface.
A Venturi effect is also created within the air wipe, further increasing air flow.
Sizes are recommendations only. Specific applications may require less or greater clearance for proper drying.
Custom openings up to 7" (177.8mm) in diameter.
MINI Wipes™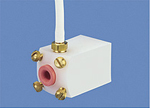 MINI Wipe™ features protective ceramic inserts for bare wire applications. Solid, low profile bodies easily fit into tight process lines...
Click here to read more about this product.
Snap-on Air Miser™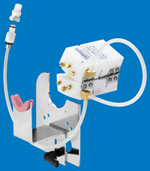 Air Miser™ is the worldwide industry standard for cost effective and reliable drying. Extremely efficient, it automatically passes knots and splices and features quick bracket and air disconnects to make size changes a snap...
Click here to read more about this product.
Snap-on Ceramic-lined Air Miser™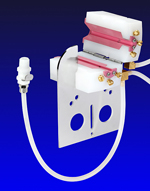 Our ceramic-lined "air miser" has the exact same profile as our standard air miser, with fully lined ceramic inserts. You will enjoy the benefits of the original design having great drying properties while using less air than other types of air wipers...
Click here to read more about this product.
Snap-on Down Drafter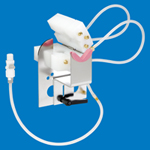 The "Down Drafter" was developed to answer the needs of specialized extrusion, where blow back of liquids has to be minimized and avoided for improved drying without disturbing the environment around it...
Click to read more about this product.
Reversible Mounting Rectangular Wipe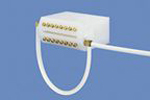 Rectangular Wipe handles strip, flats and other profiles. Standard models feature .125" - .250" (3.2 - 6.4 mm) high slot openings from 1.00" - 4.00"
(25.4 - 101.6 mm) wide...
Click here to read more about this product.
Custom Air Wipers
To order your own custom-designed air wipers, please call us at 401−253−5500 (800−972−9222 toll−free) with your specific needs and we'll provide you with a price quote.