Snap-on Ceramic-lined Air Miser™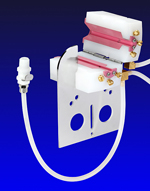 Our ceramic-lined "air miser" has the exact same profile as our standard air miser, with fully lined ceramic inserts. You will enjoy the benefits of the original design, having great drying properties while using less air than other types of air wipers and the protection from human error and misalignment, preventing damage to the product and to the air wiper body as well. Because it is fully lined with ceramic, it does not require the "V" centering guide. Just set up the body on the bracket, center it on your process line and you are ready to run! Available in sizes up to 1 inch (25.4mm).
Notice of Ceramic Variations
The bore of Huestis ceramic air wiper inserts may vary slightly from unit to unit.
Due to the ceramic manufacturing process, variations will occur and they may be slightly oval in shape, however the deviation shall not exceed 2% of the diameter.
This is appearance only, and has no adverse effect on the performance of the air wiper.
Air Miser™ Drying Cycle
Wet material enters the rear of the Air Miser™ from a cooling trough or quenching tank. Material is then exposed to a ring of drying air jets. Dry material exits the Air Miser™, aided by an adjustable ceramic centering guide.
Air Flow / Noise
Efficient, Quiet Operation
Most manufacturing plants already use compressed air, making conversion to Air Wipes both quick and cost effective.
Very often, a change to Air Wipes has resulted in reducing the number of compressors on line.
Air Wipes require only a fraction of the horse power needed to generate the electrical requirements of a centrifugal blower.
Air Wipes controlled air flow produces much lower noise levels than open lines or adjustable models.
| Air Flow | Air Miser™ Flow per Jet | dB Level |
| --- | --- | --- |
| 10 PSI (0.7 bar) | 0.238 SCFM (.0067m3/min.) | 74.5 |
| 20 PSI (1.4 bar) | 0.354 SCFM (.0100m3/min.) | 74.5 |
| 30 PSI (2.1 bar) | 0.460 SCFM (.0130m3/min.) | 74.5 |
| 40 PSI (2.8 bar) | 0.557 SCFM (.0158m3/min.) | 74.8 |
| 50 PSI (3.5 bar) | 0.653 SCFM (.0185m3/min.) | 75.0 |
| 60 PSI (4.2 bar) | 0.751 SCFM (.0213m3/min.) | 76.0 |
| 70 PSI (4.9 bar) | 0.843 SCFM (.0239m3/min.) | 77.5 |
| 80 PSI (5.6 bar) | 0.948 SCFM (.0268m3/min.) | 80.0 |
Ceramic Air Miser™ Models
Part No.
Opening Size
Wire Size
(Max.)
Wire Size
(Min.)
Jet No.
Bracket Model
AMSC0125
0.125"
(3.2mm)
0.093"
(2.4mm)
0.031"
(0.8mm)
6
AW463
AMSC0187
0.187"
(4.7mm)
0.156"
(4.0mm)
0.093"
(2.4mm)
6
AW463
AMSC0250
0.25"
(6.4mm)
0.219"
(5.6mm)
0.156"
(4.0mm)
6
AW463
AMSC0312
0.312"
(7.9mm)
0.281"
(7.1mm)
0.219"
(5.6mm)
6
AW463
AMSC0375
0.375"
(9.5mm)
0.343"
(8.7mm)
0.281"
(7.1mm)
6
AW463
AMSC0500
0.5"
(12.7mm)
0.469"
(11.9mm)
0.406"
(10.3mm)
6
AW463
AMSC0625
0.625"
(15.9mm)
0.594"
(15.1mm)
0.469"
(11.9mm)
6
AW463
AMSC0750
0.75"
(19.1mm)
0.719"
(18.3mm)
0.594"
(15.1mm)
6
AW463
AMSC1000
1.0"
(25.4mm)
0.969"
(24.6mm)
0.719"
(18.3mm)
6
AW463