Snap-on Down Drafter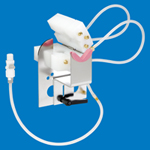 The "Down Drafter" was developed to answer the needs of specialized extrusion, where blow back of liquids has to be minimized and avoided for improved drying without disturbing the environment around it. It has our patented nozzle jets mounted both in the front and rear of the body with a center drain in the bottom that is threaded, allowing the customer to install a fitting to connect to piping or a flexible hose to return liquid back to their process supply without using an additional enclosure, if desired. It also allows the customer to gang multiple units together, while minimizing liquid blowing back onto the product from the previous-in-line air wiper. Lastly, it performs better at higher speeds than a standard air wiper. Using the metering valve, you can tune and balance the air flow between the jets for maximum drying effect on each product or profile. The down drafter is available in sizes up to 1 1/4 inch (31.7mm).
Air Flow / Noise
Efficient, Quiet Operation
Most manufacturing plants already use compressed air, making conversion to Air Wipes both quick and cost effective.
Very often, a change to Air Wipes has resulted in reducing the number of compressors on line.
Air Wipes require only a fraction of the horse power needed to generate the electrical requirements of a centrifugal blower.
Air Wipes controlled air flow produces much lower noise levels than open lines or adjustable models.
| Air Flow | Down Drafter Flow per Jet | dB Level |
| --- | --- | --- |
| 10 PSI (0.7 bar) | 0.238 SCFM (.0067m3/min.) | 74.5 |
| 20 PSI (1.4 bar) | 0.354 SCFM (.0100m3/min.) | 74.5 |
| 30 PSI (2.1 bar) | 0.460 SCFM (.0130m3/min.) | 74.5 |
| 40 PSI (2.8 bar) | 0.557 SCFM (.0158m3/min.) | 74.8 |
| 50 PSI (3.5 bar) | 0.653 SCFM (.0185m3/min.) | 75.0 |
| 60 PSI (4.2 bar) | 0.751 SCFM (.0213m3/min.) | 76.0 |
| 70 PSI (4.9 bar) | 0.843 SCFM (.0239m3/min.) | 77.5 |
| 80 PSI (5.6 bar) | 0.948 SCFM (.0268m3/min.) | 80.0 |
Down Drafter Models
Part No.
Opening Size
Wire Size
(Max.)
Wire Size
(Min.)
Jet No.
Bracket Model
AMDD0062
0.062"
(1.6mm)
0.031"
(0.8mm)
N/A
12
AW463
AMDD0125
0.125"
(3.2mm)
0.093"
(2.4mm)
0.031"
(0.8mm)
12
AW463
AMDD0187
0.187"
(4.7mm)
0.156"
(4.0mm)
0.093"
(2.4mm)
12
AW463
AMDD0250
0.25"
(6.4mm)
0.219"
(5.6mm)
0.156"
(4.0mm)
12
AW463
AMDD0312
0.312"
(7.9mm)
0.281"
(7.1mm)
0.219"
(5.6mm)
12
AW463
AMDD0375
0.375"
(9.5mm)
0.343"
(8.7mm)
0.281"
(7.1mm)
12
AW463
AMDD0500
0.5"
(12.7mm)
0.469"
(11.9mm)
0.406"
(10.3mm)
12
AW463
AMDD0625
0.625"
(15.9mm)
0.594"
(15.1mm)
0.469"
(11.9mm)
12
AW463
AMDD0750
0.75"
(19.1mm)
0.719"
(18.3mm)
0.594"
(15.1mm)
12
AW463
AMDD1000
1.0"
(25.4mm)
0.969"
(24.6mm)
0.719"
(18.3mm)
12
AW463
AMDD1250
1.25"
(31.7mm)
1.187"
(30.2mm)
0.969"
(24.6mm)
12
AW463
AMDD2000
2.0"
(50.8mm)
1.969"
(50.0mm)
1.469"
(37.3mm)
16
AW484D