Diagnostic X-Ray Systems
MX40 Mobile Digital X-Ray System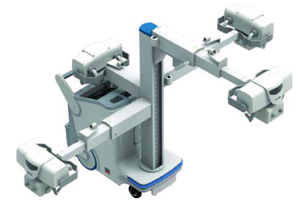 With the MX40's state-of-the-art design and powerful 50 kW generator, users can obtain clearer images quickly and easily. Our latest mobile X-ray system is based on the revolutionary MX family — with a legacy that has been proven by its more than 200 systems in use.
Features
Wireless - Compatible with multiple flat-panel detectors (FPD), WiFi connection to PACS, and easy image transfers.
Motorized - The latest motorized system with active response is able to propel the MX40 on an incline up to 10 degrees.
Lightweight - Compact design that is 58 cm wide and weighs 380 kg.
Usability - Simply press any one of the four release buttons to unlock the tube and collimator, increasing efficiency in preparation setup.
50 kW Generator - With a maximum power output of 50 kW, the MX40 can meet different exposure needs for positioning and body mass.
Efficient Workstation - Only 10 seconds start-up time, fast image processing, and a 21.5 inch capacitive screen.
Lithium Battery, Dual Power Supply - Take exposures using either AC power or Lithium battery; longer-life Lithium battery for users peace of mind.