History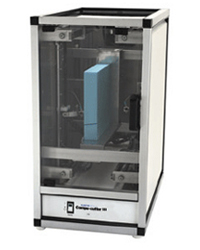 Located in Bristol, Rhode Island, Huestis Machine Corporation was founded in 1920 by J. Floyd Huestis as a specialty machinery supplier to local manufacturing companies. Recognized for its precision machining capabilities, Huestis was first approached in the early '70s to design and manufacture custom equipment used in radiation therapy. Continuing opportunities successfully led to a change in company focus to developing radiotherapy and diagnostic imaging applications under the new Huestis Medical corporate umbrella.
Our first radiotherapy product, the Styro•former® shielding block cutter, addressed productivity and cost issues that represented major obstacles to providing affordable radiotherapy treatment in many small community facilities. Introduced in 1975 as a quick and accurate alternative to producing shielding blocks by hand, Styro•former® was considered the vanguard of radiotherapy shielding technology. Today, our renewed commitment to supporting the radiotherapy community with accurate and affordable treatment alternatives has helped to position us as the world's leading manufacturer of radiation shielding block cutting equipment.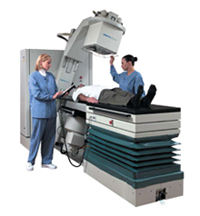 In December 1996, Huestis Medical acquired Cascade X-Ray Inc., a manufacturer of radiation therapy simulators formerly based in Yakima, Washington. The Cascade simulator's easy installation, minimal room preparation and reliable operation has been proven in over 150 installations since its introduction in 1976.
Completely redesigned in 2000, the new Huestis•Cascade™ combines easy, affordable installation with impressive features. Quick and easy to install because it's free standing, there is no floor pit required as with other, more expensive simulators. Compact in size, it is ideal for rooms where space is at a premium. New asymmetrical field wires and a Windows® based operating system lead the array of flexible, reliable positioning features. Accurate, reliable and very affordable, Huestis•Cascade™ offers unmatched simulator performance and value.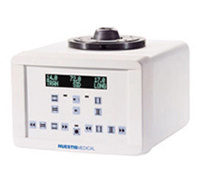 Our latest acquisition was Applied X-Ray Technologies, a manufacturer of both manual and automatic collimators originally based in Denver, Colorado. This purchase, made in August 1998, represents a valuable vertically integrated move in our growth strategy to continuously improve our diagnostic imaging business. Collimators are an integral part of many of our imaging systems including the Huestis•Cascade™ radiation therapy simulator and our diverse range of remanufactured diagnostic imaging equipment.
Our newly patented Selectable™ X-Ray Collimator design utilizes uniquely simple engineering and component assembly to provide optimal imaging at an affordable price. Proven in OEM and retrofit applications worldwide, this reliable system is becoming the collimator of choice for professionals desiring quality manufacturing and easy operation.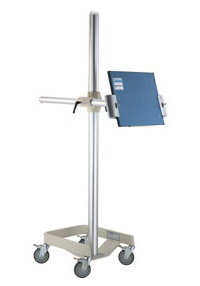 Mission
The mission of Huestis is to develop, manufacture and market reliable, cost effective medical and industrial equipment. This mission is supported by our dedication and commitment to quality. Each individual employee, at every level, takes responsibility for the company's success by respecting and understanding each other's role and its impact on our customers. Our success is dependent on delivering the highest quality product at an affordable price to meet the customers' full expectation.
To learn more about what we sell, please refer to our Products Section.
Click here to read about the current owner of Huestis Medical (PDF document).