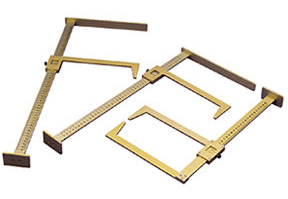 Huestis Medical calipers are designed to be the most accurate calipers in radiology. Their detailed construction is precisely controlled so that scales can be calibrated and verified in 1 mm increments to help prevent measurement miscalculations.

Interrelated parts help prevent looseness at the connecting joints to lessen the chance of miscalculation or excess radiation. Precision machined and gold anodized, Huestis Medical calipers offer reliable performance and lasting value.
Click here to download the PDF document
Features
Accurate Design
Detailed engineering utilizes minimal fastener points to ensure rigidity.
Scales are accurately calibrated to 1 mm increments.
Easy to Read
Reversed orientation scales help prevent reading the wrong scale or transposing numbers on the scale.
Off-table, point-to-point scales read from the top down.
Tabletop scales read from the table up, in a different color.
Recessed indicators protect enumeration from premature wear.
Versatile Measurements
Central-axis
Off-axis
Laterals
Obliques
Off-table
Ease of Use
Wide base ensures perpendicularity to table top.
Specially shaped pointer(s) reach around extended body contours.
Easily adjusted thumb screw grips firmly at any position on scale.
Precision Machined
Precision machined, lightweight aluminum ensures accurate tolerances and lasting durability.
Interrelated parts help prevent looseness at connecting joints.
Hand Assembled
Hand-tapped, counterbored, and assembled with steel screws to provide lasting strength.
Gold Anodized
Protective gold anodizing process prevents deterioration over time.
Standard Body Calipers
Width: 25.4 cm (10")
Length: 52.8 cm (20.8")
Measures: 0—45 cm (0—17.7")
Extended Body Calipers
Width: 25.4 cm (10")
Length: 62.3 cm (24.5")
Measures: 0—55 cm (0—21.7")
Head/Neck/Mammo Body Calipers
Width: 24.7 cm (9.75")
Length: 39.1 cm (15.4")
Measures: 0—25 cm (0—9.8")
System Highlights

Detailed Construction
Accurately calibrated scales have reversed orientation color-coded numbers for correct reading of various measurements. Recessed indicators protect enumeration from wear.
Please click here to download the PDF document